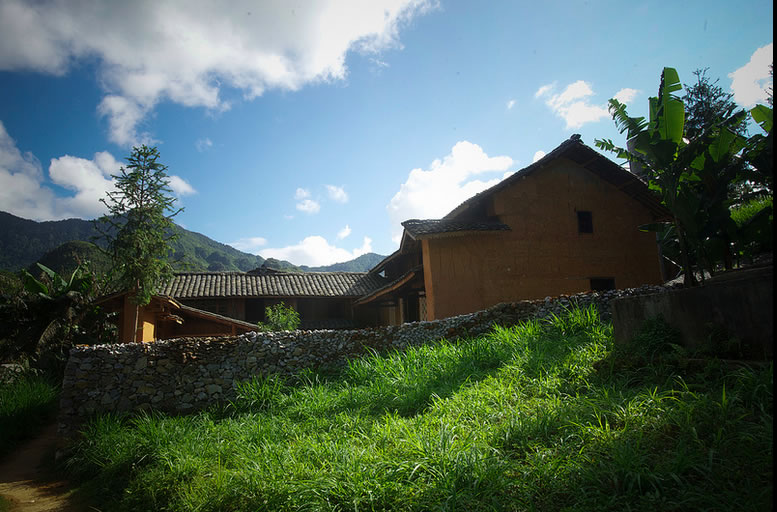 L'AUBERGE DE MEO VAC, our H'mong Traditional Homestay House in Meo Vac (Province of Ha Giang)

Oriental Bridge Travel now proposes an elegant traditional homestay house in Méo Vac, in the province of Ha Giang. Méo Vac is a charming small town in a valley surrounded by mountains, at the bottom of the breathtaking Ma Pi Leng Pass joining Dong Van to Méo Vac and rightly considered as one of the three most beautiful roads in Vietnam.

Perched on a hill overlooking the town and built with 80-cm dried mud walls and wooden posts and beams, the house dates back 1930 and was the fortified farm of a h'mong chief, a copy of a traditional Chinese house (yamen), with its 4 cottages around a large patio. Only the main house and the patio remain. We now enter through a wide paved courtyard and a stone terrace opening on a large lounge-dining room with beams and a fire place. The house counts 4 double rooms, one twin single and a dormitory of 8 beds, as well as 4 shower stalls and 2 separate toilets.

Your hosts put at your disposal guides to explore the magnificent region of the canyon of the Nho Qué River (25$ per day for a guide lunch not included).
Rates on request.

Oriental Bridge Travel™ ©2014 All rights reserved on texts and photos. Site administrator: aile@mail.com
Written and co-designed by Jacques Bacon - Co-designed and programmed by Joel