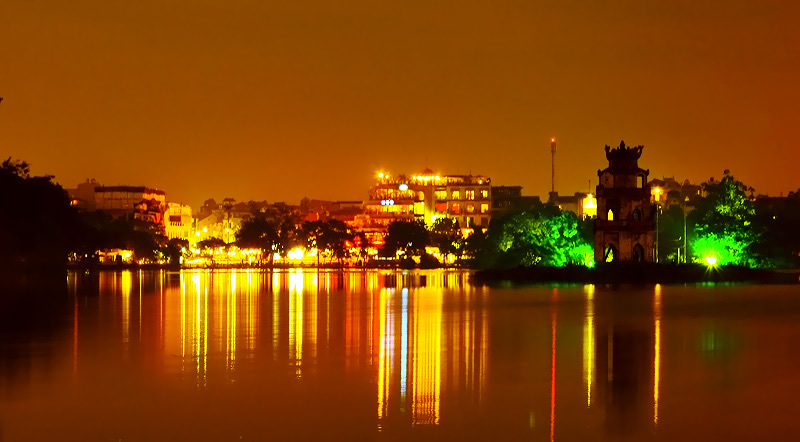 Hoan Kiem Lake, Ha Noi
North Vietnam
Our tours in a Private Vehicle with Chauffeur and Guide

One-day Tours of Hanoi
We offer you 4 one-day tours of Hanoi:
A complete visit of Ha Noi, which ends with the marvelous Water Puppet Show
3 Theme Tours of Hanoi : Arts, Antiques, Gastronomy
VISIT OF HA NOI - WATER PUPPET SHOW

The Temple of Litterarure

In the morning, visit of the modern city: Governor Palace, Ho Chi Minh Mausoleum (except Monday and Friday), his stilt house, the One-pillar Pagoda, the Temple of Literature, the temple of Quan Thanh, and the pagoda of Tran Quoc. Ha Noi traditional lunch, then visit of the extraordinary Museum of the Minorities of Vietnam, followed by a stroll in the Old Quarter of Hoan Kiem and its 36 merchant streets.

The day ends with a show unique in the world: the marvelous Water Puppet Show, accompanied by live traditional music and songs. Return at your hotel around 18:00.
Rates per person in US dollars
| | | | | |
| --- | --- | --- | --- | --- |
| 1 pers. | 2 pers. | 3 pers. | 4 pers. | 5 pers. |
| $116 | $72 | $56 | $53 | $47 |
ARTS TOUR (full day)
Your tour starts with the visit of the magnificent Fine Arts Museum of Hanoi, where you will admire all the art treasures of Vietnam, from the Antiquity to the contemporary period: paintings, drawings, popular arts, silk, etc. You then visit the famous Nha Sanh Studio, set in a magnificent old Thai house with it carved wooden beams, originating from the region of Hoa Binh, and which became of of the most active Art Centers in North Vietnam.

We then go to the house–studio of Mrs Tham Poong, the most famous Vietnam painter from a minority origin (Mrs Poong is Thai) and and renowned expert in Contemporary Arts (Do paintings).



Fine Arts Museum, Ha Noi
You will then cross the Red River and have a delicious lunch of local cuisine in a Vietnamese family, followed by the visit of the curious house–studio of Mr. Anh Khanh, a renowned sculptor and lacquer painter. Return to Old Hanoi, where you will visit famous art galleries. Back to your hotel around 18:00.
Rates per person in US dollars
| | | | | |
| --- | --- | --- | --- | --- |
| 1 pers. | 2 pers. | 3 pers. | 4 pers. | 5 pers. |
| $112 | $67 | $46 | $38 | $33 |
ANTIQUE TOUR (3/4 day)
We start this tour with the visit of the famous Nguyen Frères antique shop, very popular with the international clientele because of its eclectism and exquisite taste: real antiques, high quality reproductions, ceramics, high fashion silk, h'mong textiles, old statues issued from Vietnamese Catholicism, etc. surround you on two floors of this old house located behind the Opera.

We then continue on 8 km to go to the house de Mr. Luong, two wooden houses on stilts filled up with treasures. Mr. Luong, who frequently collaborates to historic films as an expert, will be pleased to give you explanations on all the objects attracting your curiosity. We then stroll through the Flower and Bonsai Market, and have in a small street restaurant. After lunch, we go the famous Antique Street, north of the West Lake (Ho Tay). Return at your hotel around 16:00.
Rates per person in US dollars
| | | | | |
| --- | --- | --- | --- | --- |
| 1 pers. | 2 pers. | 3 pers. | 4 pers. | 5 pers. |
| $112 | $67 | $46 | $38 | $33 |
GASTRONOMY TOUR

Oriental Bridge Travel™ ©2015 All rights reserved on texts and photos. Site administrator: info@orientalbridgetravel.com